How OUR re-branding can help YOURS
November 7, 2018
Talking to Your Investors Vs. Your Customers – Are You Doing it Wrong?
July 30, 2019
The 5 Golden Rules for Maximising ROI on Trade Shows and Conferences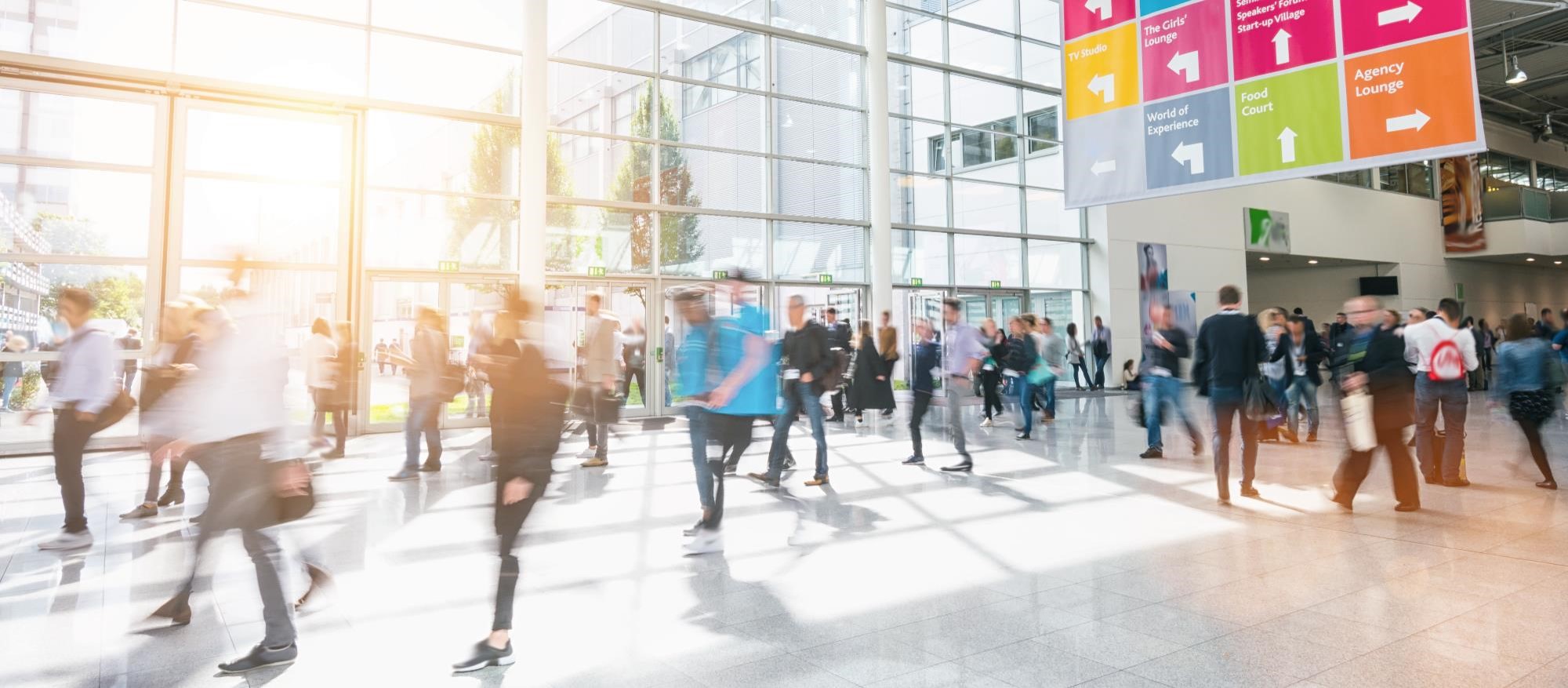 Let's skip the unnecessary intros, as this article is not about whether or not you should exhibit in conferences or trade shows. It's about doing it right! Exhibiting at trade shows / conferences / summits / etc. requires a lot of resources (time, money, workforce, etc.) – what can we do in order to make sure it was worth the investment?
5 ground rules – let's get started.
1. Have a clear goal
It's obvious that the main goal is to get good exposure and mingle with the right people (potential customers, investors, partners, etc.), but if it's all about the networking, then you can simply go as a visitor.
However, if you're about to invest your time and money in exhibiting, you'd want to have a clear goal around it—one that is in line with your overall marketing and sales strategy (e.g., build awareness, raise capital, induce trial, etc.)—in addition to a few trackable and measurable KPIs.
For example, if your main goal is gaining awareness amongst your target audience, then your measurable KPIs can be:
Speaking to at least X people/businesses from your target audience
Booking a demo / demoing on the spot to at least X of them
Getting contact details of X% of relevant booth visitors
Eventually getting at least Z new clients out of the people you've engaged with during this event
Not only will these KPIs help you measure the profitability of your participation, they will also help you stay focused during the event and will prevent you from spending precious time on talking and demoing to the wrong people… there might be a lot of people coming to your booth, but not all of them serve your goals, so make sure you invest your time (talking / demoing / etc.) in the right people.
Which leads us to the next point.
2. Choose the right event
There are SO MANY of them: conventions, summits, festivals, trade shows, conferences… but how do you sift through all of these and choose the one(s) that would benefit you the most? A few parameters to consider:
The mix – Who is attending the event? Is it the right audience for you? Is it wide/specific enough for your current needs? Does it help you with achieving your goal? You can also check if there will be big-shot speakers who can attract bigger crowds.
The size – Size doesn't necessarily matter as small, yet super-targeted events are sometimes better than big but unfocused ones. Still, meeting more people gives you wider exposure; just make sure it's the right people (see the above bullet).
The competition – Are your competitors going to be there? Were they presenting there the last time as well? Will other compelling services/solutions be presented there? It doesn't necessarily mean you have to be there as well, but it's definitely something to look into and consider.
The context – Is it an industry-related event or a general startups expo? Is it a mid-week / weekend / day / evening / 2-day event? Each has its own pros and cons, of course, but different contexts call for different audiences and tactics, so make sure you choose and adjust yourself accordingly.
The added value – Most events hold competitions and awards. Does this event also hold a competition you can participate in? Can you secure a spot as a speaker as well? Do you have a chance to pitch your startup? The more value you can get out of an event, the better your chances are to maximise ROI.
If you ended up with a short list that is beyond your current capabilities (in terms of resources), focus on the one(s) that has/have the greatest impact.
3. Build your booth "flow"
When you're the exhibitor, you're expected to lead the conversation and the flow of things. You can't just stand there and wait for people to approach you and ask you the right questions. You'll have to be proactive about it, and if you want to make the most out of it, you should also have a clear "flow" of how things are going to work on the day of. Here are a few things to think about:
Decide in advance how many staff members are going to be there, and assign a specific role for each of them so that you can maximize your reach and also won't be in each other's way (which always looks unprofessional)… for example: one can be demoing, somebody else can talk to newcomers, and another one can cover the grounds and send people to your booth.
Have a clear flow; for example, you can start with a (short) explanation on what you're doing and then lead them to trial or watch the demo. Alternatively, you can start with "Want to have a try?" and then conclude with the benefits – there are many ways to go about it and it really depends on what you're offering and what you want to achieve. In any case, a clear flow of things will help you stay focused and navigate things more smoothly.
Prepare for different scenarios. For example, what happens if you're demoing and other people are waiting? (The other staff member can maybe take their number and text them when you're free to demo again, for example.) What happens on down times? (How do you make the most out of this situation?)
If you have more than one product/service, how do you navigate your audience to the right one for them?
And—probably the most important point in the flow—how does a visitor leave your booth? How do you make sure they don't leave without leaving their contact details with you? What are they taking with them (a brochure and/or giveaway)? What message did they leave with? How do you make sure to contact them later on and pick up that conversation exactly where you left off? Etc.
4. Practice makes perfect
Instead of wasting the first few hours on "getting into the rhythm" and finding the right approach to start the conversation or getting the right messaging across (a few hours where you could potentially lose clients because you weren't presenting yourself clearly and fluently enough), make sure you have pre-written scripts and scenarios and practice them. With your team.
What usually happens is you spend at least half a day trying different approaches to start a conversation and attract people to see the demo / trial your product / etc., and then by the time you hit the right way to do it, you realize you wasted a lot of time and missed a lot of potential leads by not presenting yourself properly. However, you can save time on trial and error and get it right from the get-go if you write a few "scripts" in advance and practice them.
It sounds ridiculous, as you live and breathe your business and can answer any question about it. However, in real time it'll help you stick to the most important things, keep the conversation coherent and succinct, and help you avoid over-talking and missing the point. It will allow you to navigate the situation the way YOU want to and not leave it to chance…
Think of things like how to start a conversation, how to answer common questions, how to tackle barriers, how to attract people to come to your booth, how to ask them for their details, etc. The more you go over it with your teammates beforehand, the more smoothly you'll perform and the fewer embarrassing moments you'll experience on the day itself.
5. Prepare for the day after
We've all been there. You come back to the office after being away for 2 or more days, tasks are piling up, so many people want a piece of you, and the stack of business cards you collected during the conference just sits on your table, waiting to be attended…
But we also know that the most important day of the show is the day after (or Monday, if it was a weekend event). This is the day when you should start nurturing all the leads you've generated:
Make sure you have a method / system / VA to help you enter the database into a mailing list / CRM / etc. If you have a way to do it during the event (like a landing page with a form, card scanner, etc.), even better.
You can pre-write a post-event email (optimally, you'll have different versions for the ones you've booked a follow-up with and for the ones you've just been chatting / demoing to) that highlights your benefits and how it can help their business / clients / etc. As always, keep it short, focus on the benefits (and not on the features), and, most importantly, try to have a call-to-action or a special offer that will trigger additional communication with them.
Have a plan on how to do follow-ups (this might mean you'll have to clear your calendar for the days after the conference as well): who can help you, would it be emails, calls, etc. When you have a plan that is clearly spelled out and you have the time slots for it, there's a better chance you will actually follow up!
Oh, and 1 extra tip:
You'll be speaking quite a lot on the day of the event, so make sure you have water, soothers, mints, coffee – anything you need with you to make it through the day.
Have another tip we left out? Let us know in the comment section!