Growth Focused Services
The marketing assistance you really need
get that fire going!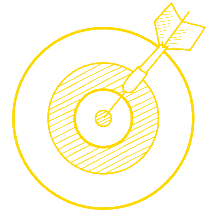 Quick
Help
Get swift and affordable help for any of your burning marketing issues:
A detailed website optimisation report based on a full website audit and review
A 1-hour Online pitch-polish session
App review and recommendations to enhance user experience
On the spot answers/advice for any other marketing related questions
Learn more

Strategy
Providing you with a strategic go-to- market plan based on a profound understanding of your :
Target market
Competitive landscape
Target audience segmentation
SWOT (Strengths, Weaknesses, Opportunities & Threats)
Brand & positioning

pitching &
storytelling
Letting your story tell the tale :
Translating your idea into an everyday language
Creating your elevator pitch, your one-pager, and your one-sentence explainer
Enhancing your pitching skills
Polishing your pitch deck
Creating additional variations for different audiences (competition / investors / etc.)

Messaging
& content
Content is king, but we make your content rule:
Content planning, writing, and editing
Copywriting, micro-copy, and creative content
Managing email marketing & automation
Writing PR, blog posts, opinion articles, etc.
Polishing your website copy

UX
Writing
Taking your product beyond functionality:
Optimizing registration / acquisition funnels
Onboarding users to optimize retention
Making sure your brand shines through your product / idea
Creating a user-friendly and consumer-oriented interface

Brand &
Positioning
Building, defining, and establishing your brand :
USP detection
Brand identity & positioning
Branding & re-branding
Brand guidelines
Marketing
Materials
Bringing your marketing plan to life:
Building your website concept, writing the content and bringing it to life (including design and development)
Writing and producing explainer videos
Creating presentations
Crafting conferences & exhibitions materials
Producing marketing and sales collaterals
Mentoring
& Support
Giving you the help you need, when you need it, where you need it :
Finding your guiding principle
Providing a second opinion
Consulting on any marketing / strategic issue
ICO
Getting your ICO right from the get-go:
Creating the right messaging
Rewriting whitepapers, websites, and decks
Managing community engagement
Creating explainer videos
Providing a second opinion
Happy customers write great testimonials,

We have been delighted with the work of Yifat and the team in the re-design of our go-to-market strategy. They have worked with us on language, design and new concepts in framing our changing business. They were highly recommended by a previous client whose opinion we highly respect and we have no hesitation, ourselves, in recommending them to others. They are creative, challenges us to think differently and is not afraid of taking us outside our comfort zone. They are quick and very professional.

Johnny weiss
Founder, Trans-Tasman Business Circle

Creating a new website that's impactful, powerful and attention-grabbing without spending a fortune is a tricky exercise, but Yifat and Lee helped us accomplish exactly that. We have a great new site that strongly conveys the why, how and what of Troovo...I would definitely recommend them to anyone looking for both strategic and tactical expertise in marketing.
Kurt Knackstedt
CEO, Troovo
let's make
your customers
happy too !